Pick up a Pre-Owned Acura NSX from Duval Acura
With the return of the Acura NSX in 2017, a legend was reborn in a modern form that could take on the leading supercars of this generation. With hybrid technology pumping up the power and space age materials making up the body and chassis, the 2017 NSX immediately became a competitor in the supercar market. If you're looking for an Acura NSX at a reduced price, visit Duval Acura and take home our certified pre-owned NSX for less than $130,000.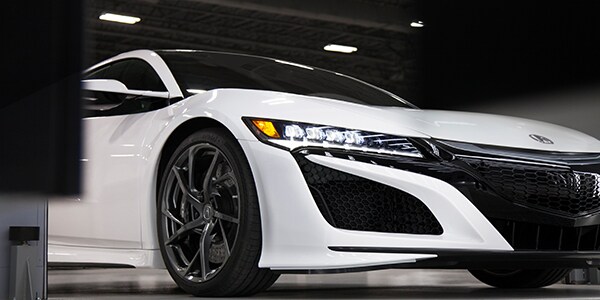 Legendary Name. Modern Performance
When reviving the legendary NSX nameplate, Acura wanted to build a vehicle that was truly worthy of the name. With a twin-turbo V6 engine and three electric motors providing the power, it's safe to say they did just that. The twin-turbo V6 develops 500 horsepower and 406 pound-feet of torque all on its own, while the electric motors bring total output up to 573 horsepower and 476 pound-feet of torque. The result is a 0-60 mph time of just 3 seconds, and an electronically-limited 191 mph top speed. And thanks to the hybrid powertrain, you'll have all that fun and still enjoy highway cruising with up to 22 mpg.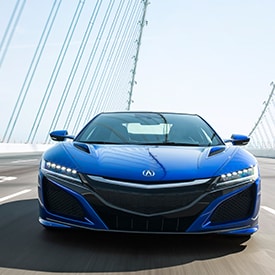 Carve Curves with Confidence
The Certified Pre-Owned Acura NSX available at our dealership isn't just fast in a straight line, it's got plenty of tech to help you get around the corners as well.
Electronically-assisted power steering and torque vectoring help pull you into the center of the corner, reducing understeer and allowing you to carry more pace through the corners. Selectable drive modes allow you to alter the personality of the NSX according to your needs. Comfort mode is perfect for casual highway cruses, while Track mode gives you a hard-nosed racer ready to attack every apex.
Sorry, no items matching your request were found.
Reset Search
Get a Pre-Owned NSX at Our Dealership Today!
If you're looking for a great deal on an Acura NSX, our certified pre-owned model is a perfect fit. With supercar performance for under $130,000, you'll be hard-pressed to find a better deal than this.
Hours
Monday

9:00AM-8:00PM

Tuesday

9:00AM-8:00PM

Wednesday

9:00AM-8:00PM

Thursday

9:00AM-8:00PM

Friday

9:00AM-8:00PM

Saturday

9:00AM-8:00PM

Sunday

Closed
Contact Us
* Indicates a required field